This page was used for pranking on April 1, 2016. This is not a real game.
Ace Combat: Infinite Skies is an upcoming entry in the Ace Combat series. It was revealed through a leak of Ace Combat Infinity data from Update 2.11 on March 31, 2016, and is currently scheduled for a May 30, 2016 release.[1]
Since Infinite Skies will be releasing prior to Ace Combat 7: Skies Unknown, the former will be the first game to release on an 8th-generation home console, namely the PlayStation 4. It will also utilize Unreal Engine 4.[1]
Plot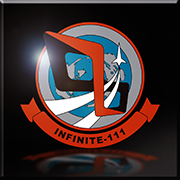 Infinite Skies is designed to be a continuation of the campaign mode in Ace Combat Infinity, which was left on a cliffhanger after its last mission. It will feature the same first 8 missions as Infinity, but after that the rest of the game will be original content.[1]
Continuing where Infinity left off, Reaper, Nagase, and Omega have been reformed into the Infinite Squadron, and continue to fight against the USEA Federation by supporting the United Nations Forces ground troops through USEA territory.[1]
Gameplay
As opposed to the upcoming Ace Combat 7, Infinite Skies will retain almost all mechanics from Infinity. However, it will not feature any multiplayer components like Online Co-Op Missions. To compensate for this, the Aircraft Tree will progress when campaign missions are completed, and credit rewards from campaign missions are substantially higher than in Infinity. Fuel is no longer a necessity to play the campaign missions, and they do not require credits to unlock.[1]
Special Aircraft are no longer available in Infinite Skies. Instead, all liveries from Special Aircraft will be included as skins for the base aircraft from the Aircraft Tree. Players will be able to import their progress from Infinity, and all Special Aircraft will be converted into the respective skins; missing skins can be purchased from the PlayStation Store.[1]
Trivia
Infinite Skies's current release date coincides with the 2nd anniversary of the international release of Ace Combat Infinity.
A price for the game was not listed in the data leak. However, players who own the Unlimited Campaign Play Ticket will receive a permanent discount on Infinite Skies.[1]

Since the game is exclusively single-player, it may not release at typical retail price of USD$60.
References
Community content is available under
CC-BY-SA
unless otherwise noted.