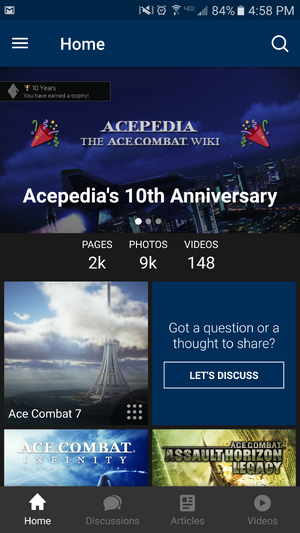 The moment has finally arrived! 10 years of hard work has brought us what I am so proud to announce: Acepedia now has its own Community App for mobile devices and tablets!
The Acepedia app is one of the best ways available to browse the wiki and participate in the community. It features integrated support for the new Discussions platform, and its home screen already features the main games that users will be interested in, including a preliminary category for Ace Combat 7.
If you've browsed Acepedia on a mobile web browser, you should find the experience similar yet much smoother on the app, and using the app bypasses the web browser completely.
There are definitely some edges that can be smoothed out - the Community Apps are still a work in progress for Wikia as a company, so don't expect this layout or its shortcomings to remain this way forever. But this is the final step of our 10th anniversary, and it's something I've been pushing for our community. I'm so happy to be able to announce this. I hope everyone enjoys the experience through the app and participates in Discussions more now that it's much easier to access.
If you have any suggestions or comments about the mobile app experience, please direct them to Wikia Staff. They'll be able to respond better since their developers are the ones who actually made the app.
Community content is available under
CC-BY-SA
unless otherwise noted.