The YF-22 Lightning II is a prototype fighter aircraft built by Lockheed Martin and Boeing for the Advanced Tactical Fighter competition.
History
The YF-22 was first operated in the Skully Islands insurrection by both the insurrection and the Scarface Squadron. It was the choice of aircraft for Hal, a member of the Scarface Squadron.[1]
Since the F-22A Raptor superseded the YF-22 in Assault Horizon Legacy, the YF-22's deployment in the Usean coup d'état is considered to be non-canon in Strangereal's history.
Game Analysis
Trivia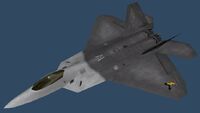 One of the F-22A Raptor's alternate paint schemes in some games are based on the YF-22.
In Ace Combat 2, there is a texture glitch associated with the Enemy Type A YF-22; The jet nozzles on the craft are transparent, allowing one to see through it. None of the other textures have this issue. This is most easily seen in the Model Viewer.
References