XFA-24A Apalis是一架架空多功能戰鬥機。最初在《Ace Combat X: Skies of Deception》,其後在《Ace Combat Xi: Skies of Incursion》和《Ace Combat X2: Joint Assault》也有出現。
設計
[
]
XFA-24A是以「不挑選戰場並有高泛用性」的概念而設計。配合高效率的引擎,機體運用前翼和三角翼得到高負載能力。因為考慮在戰場上遇到物流問題,採用了多個一般零件,因此機體成本和維修費用也相對便宜。雖然戰鬥性能上沒有十分突出的方面,但機體有使用向量噴嘴,在纏鬥也有一定的能力。整體上XFA-24A是一架高泛用性和有平衡性能的多功能戰鬥機。[1]
歷史
[
]
雷薩斯在2020年侵入奧雷利亞時,奧雷利亞空軍有具備XFA-24A。
機體資訊
[
]
Ace Combat: Joint Assault
[
]
『A respectable aircraft in all areas, the Apalis boasts unrivaled expandability.』
― Hangar說明
解鎖方式
Complete "

Dragon Lair

" in a second playthrough. Costs $140,000.
性能
Speed: Average
Air-to-Air: Average
Air-to-Ground: Average
Mobility: Excellent
Stability: Excellent
Defense: Low
裝備
塗裝
C01: Light blue body with white front.
C02: Desert camouflage.
C03: Air superiority gray.
C04: Dark gray body with orange tail and wing tips.
C05: Black body with orange stripe running down the midsection from nose to tail boom.
C06: Dual color body split in blue and red halves. Modeled after the Japanese tokusatsu superhero Kikaider.
圖片
Ace Combat Xi: Skies of Incursion
[
]
解鎖方式
Available at start of game in all versions.
圖片
Ace Combat X: Skies of Deception
[
]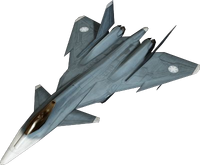 『A respectable aircraft in all areas, the Apalis boasts unrivaled expandability.』
― Hangar說明
解鎖方式
完成Prelude。需要有8700 credit去購買。
性能
Speed: 60
Air To Air: 27
Air To Ground: 18
Mobility: 54
Stability: 45
Defense: 48
裝備
塗裝
Aurelia: Light blue body with white front.
Leasath: Grey camouflage.
Special 1: Gray body with white trims.
Special 2: Black airframe with orange wing stripes.
CUSTOMIZATION

Engine: Turbo Engine, Light Engine, Adv. Turbo Engine, Minotaur Engine, Bullet Engine, RAMJet Engine, Mercury Engine, C-Cycle Engine, Hayabusa Engine
Wings: Adv Trimtab, Extra Airbrake, Extra Ladder, Air Gripper, Extra Elron, Extra Canard, Thornback Fin, Adv Balance Tab, Adv. Anti-Balance Tab
Armor: Scale Armor, CFRP Conversion, Ceramic Armor, Nera Armor, Titanium Armor, Light Armor, Adv. Titanium Armor, TiAl Armor, Composite Armor,
Weapons: Destructive Missile, Kinetic Energy Penetration Shell, Long Range Gun, Extra Hardpoint. Enhanced Special Homing Missile, Destructive Bomb, High-Speed Ammunition
Cockpit: Emergency Autopilot System, Raven, Terra Hammer, Automatic Machine Gun Fire Device, AAM Jammer, Fenrir ECMS, Earth Shaker (aircraft exclusive), Sniper OS, Salamander
圖片
備註
[
]
資料出處
[
]