XR-45 Cariburn是一架架空戰鬥機。最初在《Ace Combat X: Skies of Deception》,其後在《Ace Combat Xi: Skies of Incursion》和《Ace Combat X2: Joint Assault》也有出現。
設計
[
]
XR-45是由某跨國企業的航空器部門所設計的試驗戰鬥機。機體是將次世代戰鬥機的構想具體化,具備了當時尚未主流的COFFIN系統、二維向量噴嘴、機身下部前翼等提高纏鬥的性能。[1]
XR-45雖然有兩個強大的引擎推動,極速卻因為受前掠翼和位於機首前方的大型進氣道所影響而比其他同世代的戰鬥機低一點。然而,機體在高高度有良好的纏鬥能力。[1]
歷史
[
]
雷薩斯在2020年侵入奧雷利亞時,奧雷利亞空軍有具備XR-45。奧雷利亞如何取得其試驗機體並不明確,但有傳聞認為是跨國企業為了收集戰鬥數據將機體給予奧雷利亞。[1]
機體資訊
[
]
Ace Combat: Joint Assault
[
]
『An air-to-air fighter with a unique forward-swept wing design.』
― Hangar說明
解鎖方式
Complete mission 12A:

Nightwatch (12A)

on Ace difficulty two times or complete multiplayer Joint Assault mission 3&4: Red and Black on Ace difficulty two times. Costs $248,900.
性能

裝備
塗裝
C01: Graphite black.
C02: Desert brown camouflage.
C03: Gray/sky blue camouflage.
C04: Dark blue.
C05: Black w/ green.
C06: Black w/ white triangular patterns in the wings' flaps.
圖片
Ace Combat Xi: Skies of Incursion
[
]
解鎖方式
Available at start of game in all versions.
圖片
Ace Combat X: Skies of Deception
[
]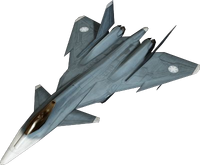 『An air-to-air fighter with a unique forward-swept wing design.』
― Hangar說明
解鎖方式
完成Striking Point或Blitz。需要有29100 credit去購買。
性能

裝備
塗裝
Aurelia: Graphite black.
Leasath: Brown desert camouflage.
Special 1: Gray/light blue camouflage.
Special 2: Deep blue.
圖片
備註
[
]
資料出處
[
]